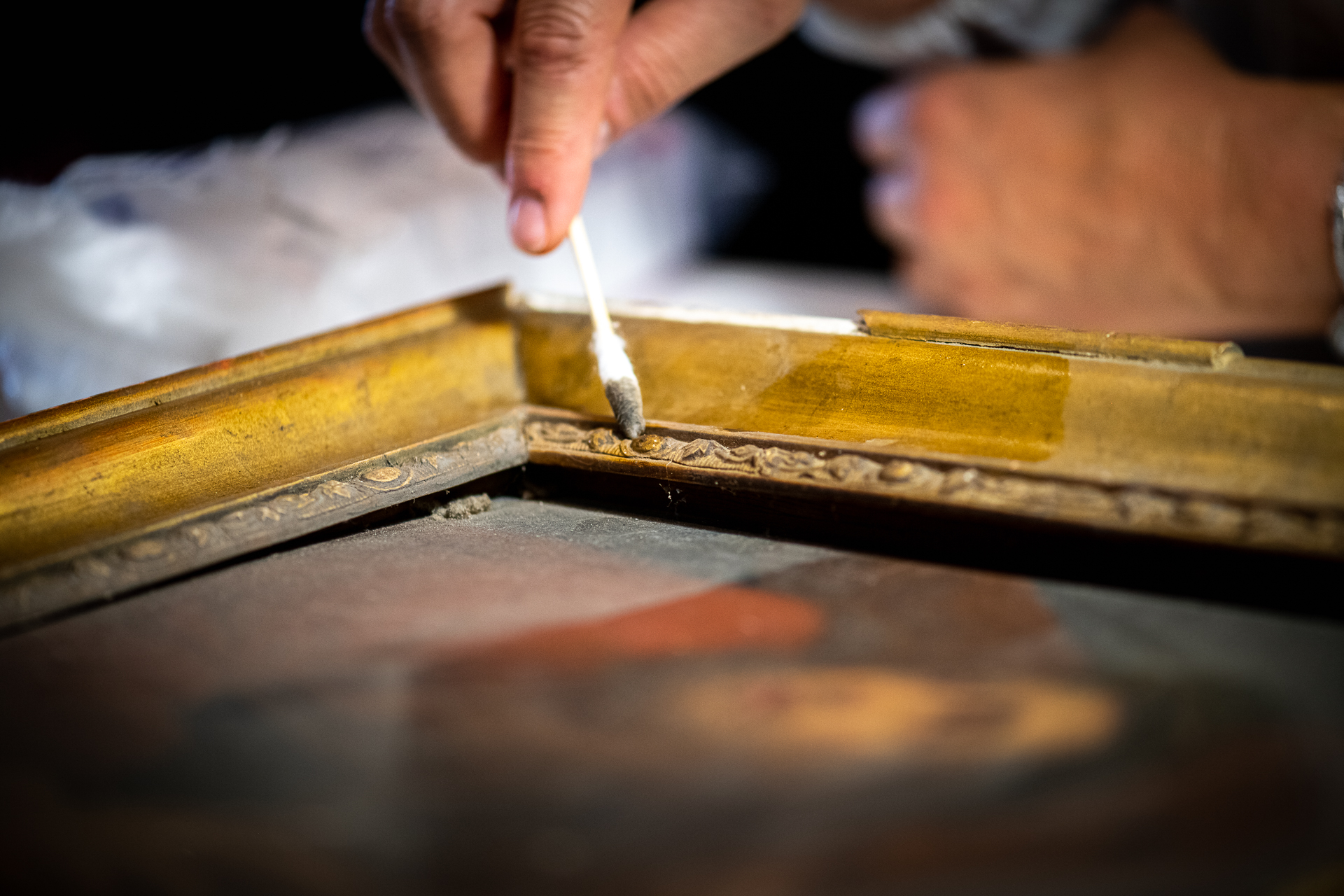 The Corner of Restorers at Mercanteinfiera Fall 2022
Hall 4 – Booth B 020
Once again this year, there will be a space dedicated to the restoration and conservation of ancient and modern works of arts. It is an actual workshop for the restoration of paintings on canvas and board and wood artworks set up inside Hall 4, Booth B 020.
As usual, we will be available for maintenance and restoration work and to provide advice about the works displayed at the exhibition, whether still to be purchased or already in the possession of visitors, collectors, and antiquarians from Italy and abroad. Through an analysis of the constituent elements and of the execution technique of every single artefact it will be possible to develop a restoration project. The highly-specialized restorers, with ministerial qualification, will work and welcome visitors and operators in the sector, providing a personalized consultancy, a complete service of free investigations through diagnostic instruments (UV, IR video microscope analysis) and restoration work on the artworks.
This edition will also introduce a series of meetings entitled: "culture and method of restoration projects" dedicated to prime examples of restoration work and enhancement of our cultural heritage, presenting restored works of art on canvas and on board and carved wood artefacts.
The project aims to spread and support restoration culture by showing the high-quality results that can be achieved through up-to-date and correct planning and restoration methods. It is a work methodology that focuses on the research aspect and preliminary investigative stage, drawing on the wide spectrum of skills of all the different operators involved: art historians, restorers, cultural heritage diagnosticians and chemists.
Taddei Davoli restauro dipinti di Chiara Davoli
Via Emilia S.Pietro, 24 42121 Reggio Emilia
P.IVA 02355080355 mail: taddei_davoli@libero.it Tel. 392-9710161
www.taddeidavolirestaurodipinti.it
The Chiara Davoli operates offers restoration of ancient and contemporaries paintings on canvas and boards, mural paintings, sculpture and etnography in Reggio Emilia since 1966. The company works for Superintendence, Museums and Foundations, public and private entities , banks and collectors.
Each single action of restoration originates from a careful preliminary analysis of the artwork. In particular from the detailed study on the fundamental aspects of the artwork and of the painting technique through the use of diagnostic tests.
The company collaborates with other restoring companies, with chemists and other experts providing specialized consultancy as: condition report, technical support during art expositions and cultural events, museum maintenance. Apprentices from universities, Advanced Training Schools, Restoration Institutes
are welcomed.
The company is constantly up-to-date through continuous training on new restoring methodologies. The approach used by the company on the artistic asset is based on the philosophy of the minimum intervention.
Operational techniques and the materials used are verified by the main Italian centers of restoration, Opificio delle Pietre Dure in Florence and by the Istituto Centrale del restauro in Roma.
Cartantica di Bianchi Anna &c s.n.c.
Borgo S. Silvestro 26/a 43121 Parma
P.IVA 01670550340 mail cartantica@libero.it Tel. 0521 231380
www.restaurocartanticaparma.com
Cartantica company was founded in 1989 in Parma, specializing in the restoration and conservation of handwritten and printed books, documents, parchments, prints, drawings, ancient and contemporary works on small and large format paper, newspapers, posters, fans, etc. It also deals with artistic and modern bookbinding, production of hand-made marbled paper, production of boxes, containers, carpets for conservation for private and public entities.
Cartantica has always operated in compliance with the guidelines and directives of ICRCPAL and MiBACT, constantly updating through training on new methods of resaturo. The methodologies applied in the restorations comply with the criteria of reversibility, minimum intrusion and respect for all historical and manufacturing data of the work. Among the main clients of Cartantica, in addition to various private collectors, there are numerous libraries as
well as the Superintendencies of all Italy, Civic Museums and numerous dioceses. Operational techniques and the materials used are verified by the main Italian centers of restoration, Opificio delle Pietre Dure in Florence and by the Istituto Centrale del restauro in Roma.
Festina Lente 
Festina Lente Studio is a laboratory specializing in the Restoration and Conservation of Works of Art born from the collaboration between Elisa Monfasani, Restorer of Cultural Heritage, and Emanuela Fistos, Restoration Technician..