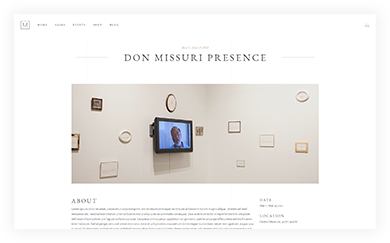 From Ghirri to Fontana. The best of Italian photography at Mercanteinfiera, from the prestigious Bonanni Del Rio collection
by Luca Zuccala
From Ghirri to Fontana. The best of Italian photography at Mercanteinfiera, from the prestigious Bonanni Del Rio collection
BDC: an acronym that encapsulates a precious cultural microcosm, from the macro container (Bonanni Del Rio Catalogue) to the venue that houses it, at 28 Borgo Delle Colonne, Parma. Three initials followed by a progressive number that changes for each project of the collectors-patrons duo Mauro and Lucia Bonanni Del Rio. For example? BDC1 represents the collection, BDC2 the website, and BDC3 the first exhibition. And so on. And then there is BDC28: that wonderful and unusual location that a few years ago was transformed into one of the cultural centres of the ducal city. A deconsecrated church a stone's throw from the Cathedral, purchased in 2015 and converted into an exhibition space. A venue of diverse artistic production (from music to literary meetings) "conceived in relation to our collection of photographs and our interest for contemporary art."
From the church to the trade show. From the spiritual inspiration of the 17th-century former oratory to the prestigious spaces of one of the historical international exhibitions, Mercanteinfiera. BDC is joining the autumn edition (5-13 October 2019). And it is doing so in great style, through a sophisticated selection of 80 photographs by the best Italian photographers. Hence the title: La Scelta Italiana (The Italian Selection). Over to Lucia Bonanni.
What Selection did you make?
We have selected about eighty works which will be displayed in a curatorial arrangement that will dialogue with the exhibition spaces. From action photography in the Rome of the 1950s (Tazio Secchiaroli, Elio Sorci, and Lino Nanni, who immortalized Italian neorealist cinema through their portraits of Monica Vitti, Sophia Loren and Marcello Mastroianni), to the conceptual photography by Sottsass at the end of the 1970s, which asks questions about Man's Destiny with his Metaphors. And finally to the nouvelle vague of the contemporary landscape: Luigi Ghirri's poetic gaze, Mario Giacomelli's nature, Franco Fontana's geometries, Mimmo Jodice's bewitching black and white photographs, Olivo Barbieri's view from above, and Massimo Vitali's beaches. Visitors will have the opportunity to discover some of the most important post-war artists and works, with art and culture blending in an all-Italian selection.
You have drawn from your collection. How was your passion (turned profession) born?
How first passion was photography. We started collecting photographs over 15 years ago, starting with the masters of Italian photography: Ghirri, Fontana, Barbieri, Basilico, Jodice, and Mulas. Next we extended our interests to include street art and illustration.
What was the first piece you purchased?
A photograph by Luigi Ghirri entitled "Scandiano". It shows a merry-go-round in a village fair. It's always special to us.
What does collecting mean to you?
To us, collecting still means surrounding ourselves with beautiful things and, possibly, sharing them with friends and the community in general.
As in the case of the selection coming to Mercanteinfiera, La Scelta Italiana. See you in October!